German Shrimp Salad over Greens
Nif_H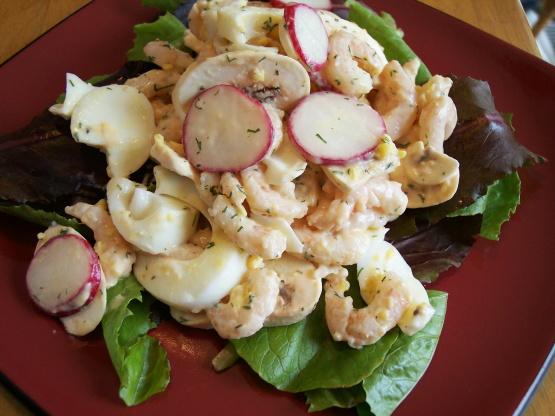 ZWT 6. I got this from Spoonfuls of Germany by Nadia Hassani. The use of brandy in this recipe is intriguing.

I am always on the lookout for quick recipes for lunch. This salad is a nice addition to my collection. The only change made was to add chopped green onion. I loved the shrimp, radish, mushroom combination, and thought the small amount of brandy did jazz up the dressing without overpowering things. Thanks for sharing the recipe! Made for ZWT6.
Put shrimp into boiling water for 2 minutes, or just until they turn pink. Drain and place in an ice bath.
Mix mayonnaise, ketchip & brandy. Season with salt & pepper.
Drain shrimp well and mix with dill, mushrooms, radishes and egg.
Fold mayonnaise mixture into shrimp mixture.
Place salad greens on a large serving platter and arrange shrimp mixture on top.
Serve immediately, with a good baguette.