German Rollmops (rollmopse)
Bergy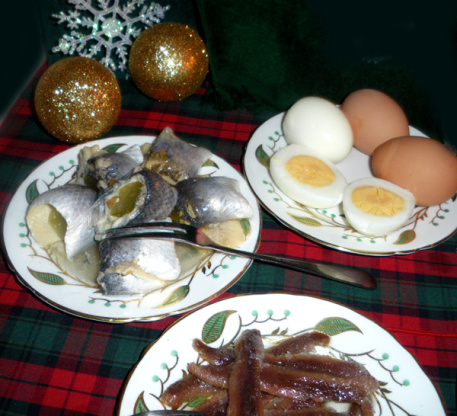 One of my favourite recipes for salt herring fillets. If you can use Matjes Herring.

I remember my father and uncle spending happy afternoons carefully preparing their rollmops! Making a MESS of the kitchen, but then viewing their prize with great anticipation. When they rollmops were ready to eat, they pratically had orgasms while eating them! Ah the fond memories! This recipe gave my family many happy and delicious hours!
Place the herring fillets in a bowl and pour in enough water to cover them by about 1 inch.
Soak them for at least 12 hours in the refrigerator, changing the water once or twice.
Drain them well, rinse under cold running water and pat them dry with paper towels.
Remove and discard any bones.
For the marinade, combine the vinegar, water, BRUISED WITH A MORTAR AND PESTLE OR WRAPPED IN A TOWEL AND BRUISED WITH A ROLLING PIN the spices, juniper berries, allspice, cloves, peppercorns and bay leaf and place in a 2 to 3 quart saucepan and bring them to a boil over high heat.
Reduce the heat to low and simmer uncovered for 5 minutes.
Then cool to room temperature.
Lay the herring fillets, skin side down, on a board or table.
Spread 1 teaspoon of mustard evenly on each fillet and scatter 1/2 teaspoon of capers and several onion rings over the mustard.
Cut the dill pickles lengthwise into quarters; if they are much longer than the width of the herring fillets, cut them crosswise into halves.
Place a wedge of pickle at one narrow end of each of the fillets, and then roll the fillets jelly roll fashion around the pickle into small, thick cylinders.
Skewer the rolls with 2 or 3 toothpicks to secure them.
Pack the rolls flat on their sides in a 2-quart glass loaf dish in two layers with the remaining onion rings scattered between the layers and over the top.
(Do not use a metal pan, for the fish may pick up a metallic flavor.) Pour the marinade over the herring, then cover the dish with foil or plastic wrap and refrigerate for 5 to 6 days before serving.
Serve the rollmops as an hors d'oeuvre on individual plates or arrange them on a platter.
In either case, garnish them with onion rings and parsley.
NOTE: If salt herring fillets are not available, substitute 12 bottled Bismarck herring fillets.
Drain them, wash them thoroughly under cold running water and pat dry with paper towels.
Then proceed with the recipe.
The Cooking of Germany Time Life.