gertc96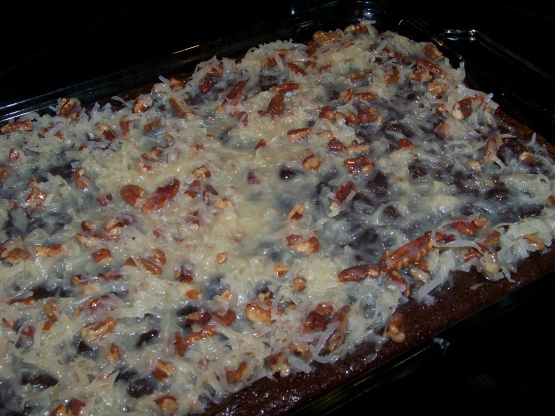 A simple, easy cake made with Eagle Brand sweetened condensed milk - so good!!

This was a really good cake. We loved it. I didn't get much frosting from just using 1/3 of the can of Eagle Brand Milk. Next time, I'll probably use 1/2 the can for cake and 1/2 for frosting. The cake is so nice and moist. Thank you so much for sharing. I made this for the New Kids on the Block tag game. June 2010
Preheat oven to 350°F Grease and flour 13x9-inch baking pan.
In a large mixing bowl, combine cake mix, water, 3 eggs, oil, and 1/3 cup Eagel Brand. Beat at low speed of electric mixer untl moistened; beat at high speed 2 minutes.
Pour into prepared pan. Bake 40-45 minutes or until a wooden pick inserted in center comes out clean.
In small saucepan over medium heat, combine remaining Eagle Brand, butter and egg yolk. Cook and stir until thickened, about 6 minutes. Add pecans, coconut and vanilla; spread over warm cake. Store covered in refrigerator.