Sweetened Condensed Milk Pound Cake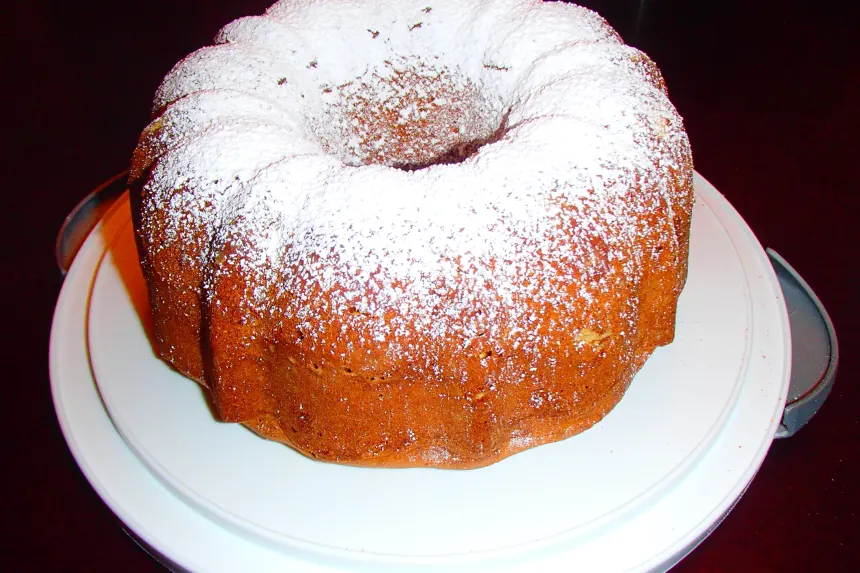 photo by melavid1_11710638

Ready In:

2hrs

Ingredients:

8

Serves:

16
directions
Prepare your cake pan. Coat with shortening and flour. I use a very old aluminum "tube" pan. The hole is smaller than the newer ones, but use pan of your choice.
Preheat oven to 350 degrees.
Beat butter and sugar at high speed until soft and smooth. (I use a heavy-duty Kitchen Aid mixer).
Add condensed milk and beat until well blended.
Add eggs, one at a time and beat well after each addition.
Combine flour, baking powder and salt and add one cup at a time and beat well.
Add vanilla and beat well.
Bake 1 hour and 30 minutes. I put aluminum foil around my pan so the crust won't get too dark. Also the last 20-30 minutes I lay foil over top to prevent the crust from being too dark.
Alow to cool for 30 minutes before removing from pan.
Enjoy.
Questions & Replies

Reviews
This was a good, old-fashioned type pound cake like my great grandmother used to make: dense, but moist on the inside with a golden brown crust on the outside. When I saw the sugar amounts combined with the condensed milk, I thought it might be too sweet, but it was perfect, and not too sweet at all! My cake was done perfectly in 1 hour so be sure to keep an eye on it since ovens vary-my oven runs a little hot and I used a dark coated bundt pan. You forgot to include a step to add baking powder and salt but I just added it with the first cup of flour and it was fine! I thought the cake was perfect plain with a big glass of milk but I may try it with a simple glaze or with fresh strawberries and whipped cream. I made this for Spring PAC 2009. Thanks Chef #1030329 for a wonderful recipe that my family really enjoyed!

 

I made this over the weekend ......the flavor was awesome, but it was extremely dry. I think baking it at 350 for 1.5 hours is way to long. I am an avid pound cake baker.....and most pound cakes are baked at 325. But against my better judgement I followed these directions and ended with a very flavorful but very dry cake. I will definitly try this again, but will baking it at 325 for shorter time.....I will not be defeated :). Sorry :(.<br/><br/>Ok I have to say this time it was much better after making a few adjustments. I only used 3 cups of flour and baked it at 325 for just over an hour..........perfect. Very moist and flavorful. I topped it with a simple ganache and toasted pecan. This recipe in now a keeper. Thanks.

 

Good Pound Cake - I made half a recipe, and may have let it bake too long. Either that or my milk may have been borderline (caramel color) because my cake was darker inside and out. I plan to make again because this is a good tasting cake. I baked at 325, and the crusts of the cake is just as yummy as the inside. Next time I will make a full recipe at 325 degrees for about 75 minutes. I like this cake.

 

This cake is delicious and moist. I substituted 1/2 cup brown sugar for the 1/2 cup regular sugar and feel that this addition added to the depth of flavor. This cake is versatile. I used half for shortcake and the other half for an icebox cake where pound cake was alternated with a blend of coconut pudding and whipped cream. I recommend this recipe!