Garden Vegetable Turkey Meatloaf
icecat27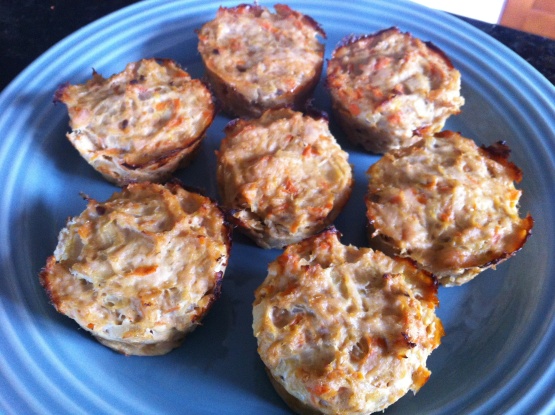 The oatmeal and chili sauce were inspired by another recipe I found on RecipeZaar, but I added an assortment of vegetables to add color, texture, flavor, and nutrition. I like to use the Uncle Sam oatmeal because it contains flax seeds and wheat flakes along with the oats, but you can use any rolled oats or instant plain oatmeal you have on hand.
Preheat oven to 350°.
Empty packet of oatmeal into a small bowl and add milk. Set aside.
Heat olive oil in a small sauté pan. Add onion and garlic and sauté until soft.
Add rest of the vegetables and cook until soft and some of the liquid has evaporated.
In a mixing bowl, mix ground turkey, oatmeal mixture, chili sauce, Worcestershire sauce and sauteed veggies until well combined. Form into a loaf shape and place in a greased loaf pan or on a greased cookie sheet.
Bake at 350°F until internal temperature reaches 140°F Raise oven temperature to 450°F and bake until internal temperature reaches 180°, and the outside of the loaf forms a nice crust.