Garden Vegetable Pistachio Potato Salad
iris5555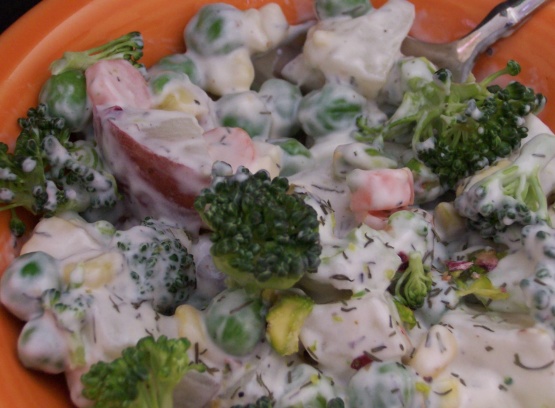 Perfect accompaniment for grilled chicken or fish! I use canned corn when corn not at its peak - yum! From the California Pistachio Comission. To adapt for red meats, I delete the dill, change yogurt to sour cream & add 1 teaspoon smoked chipotle powder (love that stuff!).

This makes one tasty and healthful salad. BF said 1) mmm, quite good, 2) different and 3) interesting! Quite a compliment. A very pretty dish, too. I used low-fat canola oil mayonnaise, which is a decent substitute for regular mayo and, otherwise, I went lite on the dressing. I loved the dill in this. My pistachios were easy to shell, so I didn't have any problems with that (couldn't find any that were already shelled). I recommend using salted pistachios, or add some salt to the salad. Make sure the broccoli florets are small. I thought maybe I should have steamed them first, but they were fine raw. Thanks another cat's friend!
Cook whole potatoes in boiling water about 15 to 20 minutes, or until tender; drain.
Cool, then slice potatoes 1/4 inch thick.
Combine potatoes with peas, carrot, corn, broccoli, green onion and pistachios in large bowl.
Stir yogurt with mayonnaise, dill and pepper; combine with vegetables and toss gently.
Note: To thaw peas, pour hot water from cooking potatoes over peas in sieve.