Game Stew With Cider and Apples
Satyne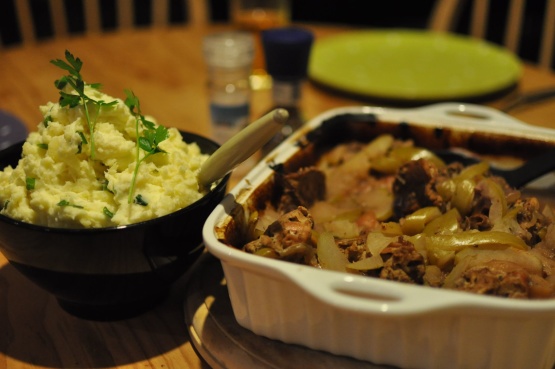 I had this in a medieval knight's pub in Torquai ten years ago. The cider is not apple juice like it would be in the US but actually it's British alcoholic cider. Not Strongbow, though, but some sweeter cider with only 4 percent alcohol. For the game use any mix of rabbit, hare, partridge, pheasant and venison or if you don't have game use chicken, beef, rabbit.

This made a wonderful dinner last evening. I used bison and it came out utterly delicious. We really enjoyed the addition of the apples. I did reduce the recipe by half as there is just the two of us and there was still plenty with leftovers (yay!). I went right by the recipe and could not have been happier. Made for Culinary Quest 2014.
Preheat oven to 350 degrees F.
In an ovenprove casserole dish large enough to hold the 2 pounds of game, heat the olive oil and brown the game in batches. Set aside.
Add onions (and more oil if required), then parsnip and carrots and fry on medium heat for 5-10 minutes.
Add cider, herbs and spices, bring to a boil, then add the browned game.
Add just enough stock to cover the game and bring to a booil.
Cover the casserole with the lid and cook in the oven for about 1-1 1/2 hours or until meat is tender.
If the liquid is too thin, mix one tablespoon cornstarch with some cold water, then stir into the stew, bring to another boil and add the sliced apples.
Simmer for another 15-20 minutes.
Serve with white bread.