vivhogan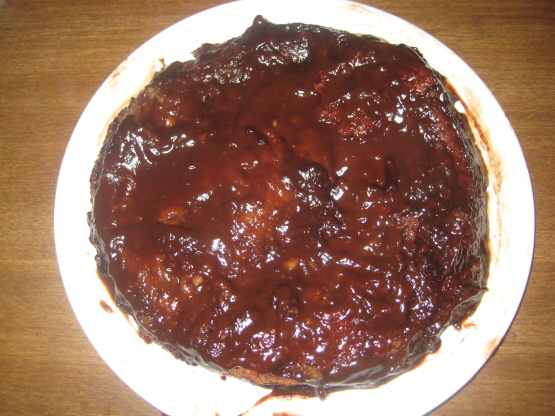 This is a good one for chocolate lovers.

I made this last nite for my chocoholic husband! He loved it!! I chilled it in fridge before I served it. I just thought it would be better that way. I did eat mine warm tho, cause it smelled so good. It was a little too chocolaty for me, but I repeat, he loved it! The only thing different I did was to double the recipe. I was afraid 3c of hot water might be too much, so just added 2 1/2. It turned out perfect. It is also very quick and easy to make, and I didn't bother to sift the flour! I know I will be making this cake again. Thankyou Theresa for posting and giving my hubby a special treat!
Cream together 3/4 cup sugar and butter.
Stir in milk.
Sift flour,baking powder,salt and 2 tbsp cocoa together.
Add to creamed mixture and beat until smooth.
Stir in walnuts.
Spread batter into a square 9 inch pan.
In a small bowl combine brown sugar,1/2 cup granulated sugar and 1/3 cup of cocoa.
Sprinkle over the batter.
Pout the boiling water over the top.
Bake at 350 for 35-40 minutes.
The cake will rise to the top and boiling water will combine with the sugar/cocoa mixture to make a rich syrup underneath.