Nif_H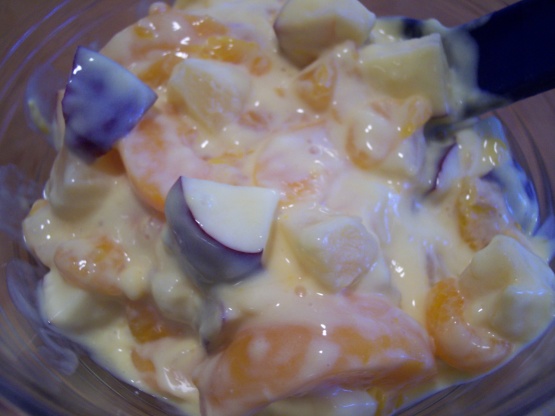 My aunt made this once for Thanksgiving and it was such a hit! Everyone HAD to have the recipe. Now, not a holiday passes that there isn't a bowl of this at the table. This can be made with sugar free pudding to make it a diabetic dessert and is just as delicious!

I made this yesterday for a BBQ and it was a huge hit everybody loved it! I didn't have peaches so I used pear juice to make the pudding. I did add sugar over the strawberries to bring out there natural juices. YUM! I was told I am in charge of the fruit salad from now on. Thanks for a great recipe.
Drain canned fruits.
Core and chop apples.
Combine all fruit in bowl and set aside.
Beat box of pudding with cold milk and orange juice concentrate for 2 minutes.
Beat in sour cream.
Fold this mixture into fruit mixture.
Cover and chill thoroughly.