Nasseh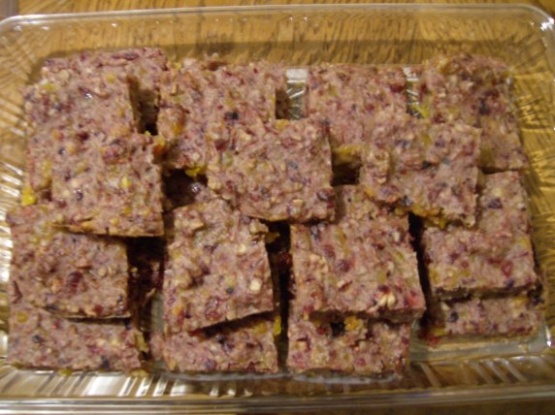 A fruit version with just eggs and flour. I found this and posted it about 2001 or 2002 when I was researching Native American food.

Top Review by Nasseh
I made this for the kids to snack on while we were cooking Thanksgiving dinner. I substituted chopped pecans for the pine nuts & craisins (dried cranberries) for raisins. I used 1/2 cup frozen mixed fruit & 1 cup frozen strawberries, slightly thawed. I chopped them into small pieces in a food processor & then added it to the dried fruits & nuts. Since there were blueberries in the mixed fruit I went ahead & added the brown sugar to the mixture. This made a great tasting healthy snack.
Preheat oven to 3750. Put apricots, apples, raisins, pinenuts, and sunflower seeds in a food processor or grinder.
Process until apricots and apples are in fine pieces and nuts are ground fine. Transfer mixture to a bowl and add remaining ingredients.
Mix well and spoon into a buttered 9 X 13 baking dish. Bake 30 minutes. Cut into bars.
Plains Indian.