Pamela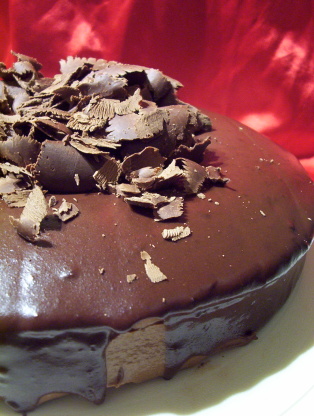 Based on the recipe "Velvet Lush" from Company's Coming "Chocolate Everything" Cookbook. I changed a few things and came up with this. Time does not include chill time.

Top Review by Gerry
Lush and lovely! This made for a wonderful summer dessert with great taste and great presentation! I followed through as directed using pure vanilla but next time around going to assure I have some Kahlua. While this made for one of my summer desserts it is a lovely dessert that would make any special occasion all the more special. Thank you Pamela for another great dessert.
For the Crust:.
Measure all 7 ingredients into a small bowl.
Beat with a spoon until smooth.
Spread evenly into a greased 9 inch springform pan.
Bake at 350 degrees for 10 minutes or until toothpick comes out clean.
Cool.
For the filling:.
Measure the first 5 ingredients into a saucepan Heat on low until smooth, stirring often.
Beat in 1 egg at a time.
Add icing sugar and beat well.
Cool completely.
Beat whipping cream until stiff.
Fold chocolate mixture into whipped cream.
Pour over cooled crust.
Chill at least 2 hours before glazing.
For glaze:.
Heat whipping cream in a small sauce pan on low.
Add chocolate, stirring consistantly, until melted and smooth.
Pour over cooled cake, letting some drip down the sides.
Freeze 6 hours before serving or overnight.
Thaw slightly to cut.
Garnish with chocolate curls or chocolate covered coffee beans if desired.