Frozen Flower Bowls With Fruits
Rita1652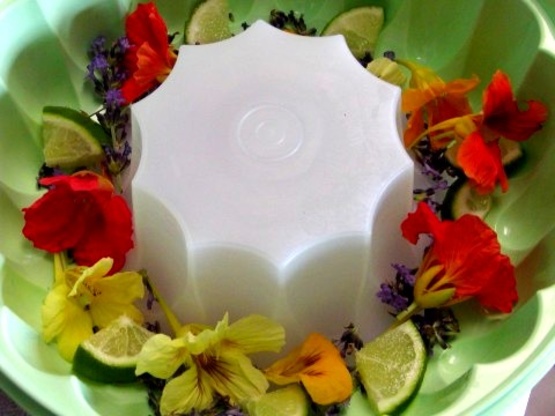 This comes from the book Girlfriends Forever by Susan Blanch. A delicious and lovely way to present food! Cooking time is freezing time.
To make the bowl:.
Clean out a place in your freezer (good luck!). Fill a bowl part way with water; drop in a cup or so of fresh flower blossoms, herbs, berries, or leaves. Put a smaller bowl in the big bowl and fill the little bowl with ice cubes to weigh it down. Cover the whole thing with a clean dish towel and use duck tape(to keep bowls in place as water expands). Freeze overnight. Twenty minutes before serving, remove from freezer, unwrap and allow to sit at room temperature. Separate bowls and fill with chilled fruit, drizzle Orange Dressing over all and toss gently. Set ice bowl in a shallow dish and serve. Enjoy!
Orange Dressing:.
Combine dressing ingredients in a small saucepan; simmer; reduce to 1/2 cup. Remove from heat and chill.
Yield: about 1/2 cup.