Frijoles Refritos (Classic Mexican Refried Beans)
Susie D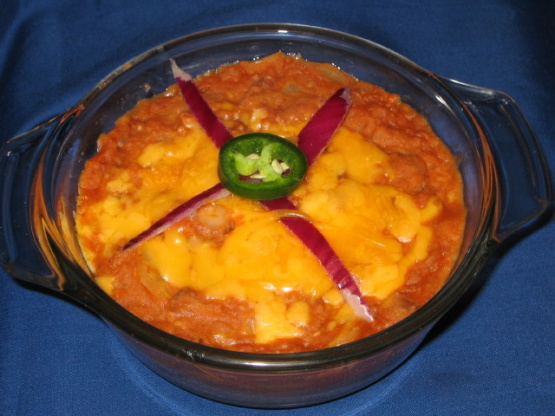 This recipe worked great for me. It was exactly what I wanted, a simple recipe without a whole lot of additions. I used the specified amount of vegetable oil, but my beans were still extremely thick, so I added in a tablespoon of butter too. That helped thin it out just a bit more to where the beans were still thick, but not in one big clump. Thanks for the lovely recipe. It worked great for my first try at making homemade refried beans!
3

tablespoons vegetable oil or 3 tablespoons bacon drippings

4

cloves peeled and finely chopped garlic

1

medium onion, chopped

4

cups undrained cooked beans (slightly warm for easy mashing Note Canned beans may be used)
Mash the beans in a bowl.
In a medium skillet, heat the oil over medium heat.
Add the onion and the garlic; cook and stir until onion is deep golden, about 10 minutes.
Stir in the mashed beans and cook for about one minute.
Add salt to taste.
Makes about one pint.