Shasha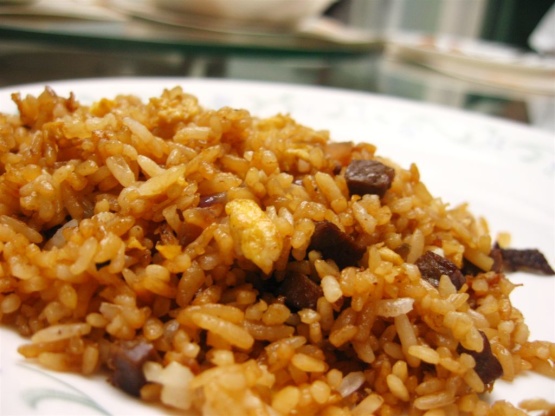 This is great as a main dish or accompanying your favorite Oriental meal.

What a great way to use up little bits of leftover ingredients! I was looking for a recipe that would use up a small amount of leftover meat and rice and this fit the bill perfectly. This was very quick, easy, inexpensive, and tasty. This was indeed nothing like Asian style fried rice - this has a completely different taste. My family enjoyed this very much and we will make this again. The only changes I would make would be to decrease the amount of butter - I halved the butter and still felt I could have used nonstick butter flavor spray instead. I also thought the amount of soy sauce made this a little bit too salty - I would either reduce the amount or use lower sodium soy sauce. I suspect that the author perhaps eyeballs his soy sauce as he adds it to the rice - he instructs you to add soy sauce until the rice turns brown (so maybe he guessed approximately 1/4 cup and it is actually less?) Anyway, I still thought is was a very good family dish.
Melt 1 tablespoon butter in skillet or wok.
Scramble eggs in butter, breaking up the cooked eggs into small pieces.
Set aside.
Melt 1 tablespoon butter in skillet or wok.
Saute onions and/or green peppers in butter for 3 minutes.
Combine eggs, onions, rice, and meat.
Stir in soy sauce until color of rice is uniform.
Stir in peas.
Heat only until warm.