Zurie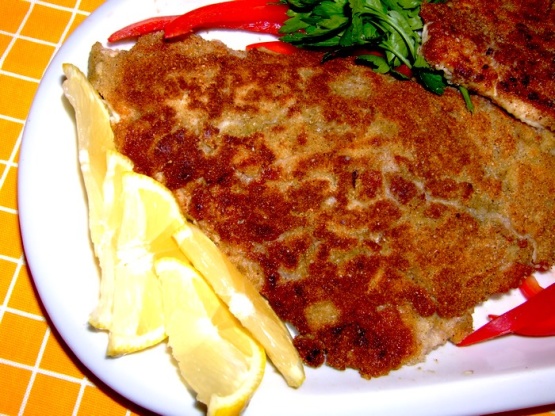 We ate it with fries. When eaten with cou-cou it is the national dish of Barbados. A truly delicious fish which is also prepared steamed.

Top Review by Zurie
MADE FOR ZWT4. Wow, what a hard dish to rate! First of all, I think flying fish are hard to come by!! I wanted to make panfried fish, so found this recipe. I followed it almost to the letter. I had two delicate fillets of Roman, a uniquely South African coastal rock fish. I confess I did not have: limes and cornflakes. I searched for limes but no luck, so used lemons. I have the impression that this is the kind of dish best made by a cook in a professional kitchen! I battled to keep the onion mixture on the fillets. I used a seasoned breadcrumb mixture instead of crushed cornflakes. (We never eat cornflakes and I didn't want to buy a box for the little I needed). The fried fish was delicious, but the covering -- perhaps my mistake -- didn't deliver the punch I expected. I maintain that this dish probably needs the deft hand of a professional cook, and ... flying fish!! (I served it with a lovely orangey sweet potato on which I used cinnamon liberally, and our own green bean "stew" (mush!), as well as a salad and our usual wine with dinner. Thanks!! (Oh -- just so you know: I battled with the photos, as it gets dark very early now where I am, and I had to use the kitchen electric lights for the photos!)
Place fish fillets in a shallow plate or dish, season with 1 tsp salt and lime juice and set aside for 15 minutes.
Drain and pat fish dry on paper towels. In a small mixing bowl mix garlic, chives, onion, marjoram and hot pepper sauce together. Rub mixture on fillets.
Mix flour, cayenne pepper,½ tsp salt and black pepper together in a shallow bowl. Dip the fillets in flour, then egg, then cornflakes crumbs.
Heat oil in a heavy skillet and cook fillets for 3 minutes on each side. Keep fried fillets warm while cooking the remaining fillets.
Garnish with lime wedges and serve.