Peter J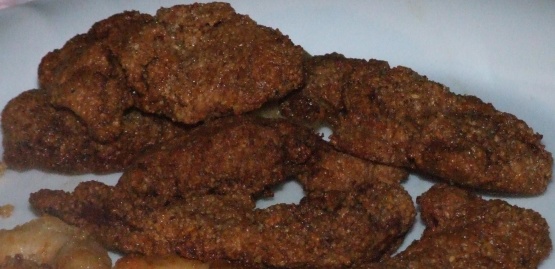 Please note that this is an adopted recipe I haven't tried it yet. I hope to do so soon as it looks delicious to me.

Well Tigerduck I can tell you this recipe doesn't just look delicious! The marinade was superb and the almond coating gave it a great distinctive flavor. Actually I was really suprised by the marinade, it didn't appear to be too much different to previous marinades I'd used with chicken but it seemed to really soak it up and well under half the liquid remained.
Pat chicken dry with paper towels.
Cut into strips 1/2" wide by 3" long.
Stir soy sauce, rice wine, chicken stock, sugar, cornstarch, ginger, and garlic together.
Place chicken in marinade, turning to coat.
Marinate at least one hour, turning chicken after half an hour.
Remove chicken from marinade and drain on paper towels.
Beat egg slightly with 1/2 teaspoon water.
One by one, dip chicken pieces in egg and roll in almonds to coat.
Let almond coated pieces set 15 minutes.
Heat oil to 350°F Fry chicken pieces in batches one layer deep until crisp, golden brown.
Be sure to let oil come back up to 350°F between batches.
Drain on paper towels and serve at once.