Parsley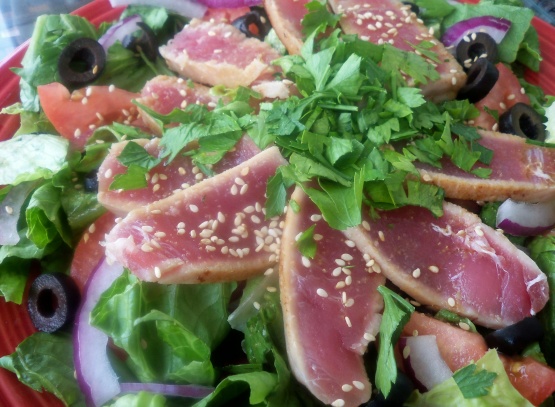 A different take on fresh tuna salads

Oh, my! This salad is EXCELLENT! Everything is perfect from the salad ingredients to the dressing. The sliced seared rare tuna was a real treat. This is perfect for a summer lunch or dinner. It's a complete meal. I made this exactly as written and I will ne making this again for sure. Thanx!
In a skillet or grill pan sprayed with cooking spray, cook tuna over medium high heat for about 5 mnutes, turning once, or until medium rare. Set aside.
To make salad; In a serving bowl, toss lettuce, tomatoes, onion s and olives.
Dressing: In a small bowl, combine dressing ingedients, reserving 1 tsp sesame seeds.
Slice tuna thinly; place over top of salad. Pour dressing over; toss gently. Sprinkle with cilantro and remaining sesame seeds.