Fresh Tomato and Crab Salad
jenne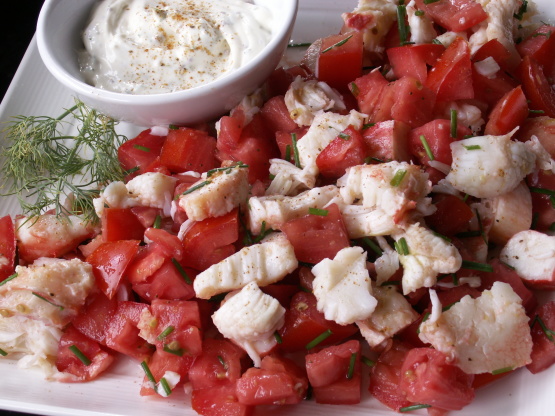 As stated on the Whole Foods website, "Serve this salad by itself, on a bed of greens or roll it up in wraps for an easy and refreshing summer meal. Heirloom tomatoes come in a rainbow of colors. In the summer, green, striped, yellow, orange and purple tomatoes can be purchased at the market. If available, choose three different colors to make this a gorgeous summer harvest salad. The dill sour cream in this recipe also pairs well with fresh vegetables." This recipe is low calorie, low fat and gluten-free. NOTE: After making this fabulous salad, I recommend a light sprinkle of Old Bay Seasoning atop the salad right before serving. . .makes it pretty and tastes great too!
Stir together sour cream, dill, mustard, salt and pepper in a small bowl.
Put tomatoes, crab, chives, lemon juice, zest, salt and pepper into a large bowl and toss gently to combine.
Spoon tomato and crab salad onto plates and serve with dollops of the dill sour cream on the side for dipping.