Fresh Pineapple With Rum Sauce
Debber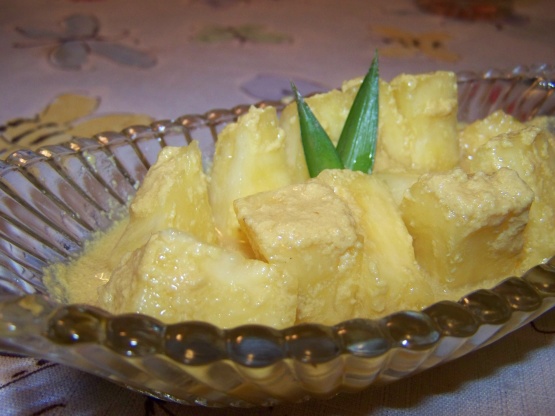 From "Caribbean Carnival", Good Food Magazine, February 1987.

Top Review by Debber
I love pineapple! The sauce wasn't at all like I was expecting, but we still enjoyed it. I poured off some of the sauce before adding the rum, so DD could have some without the booze. If I made this again, I'd add more brown sugar--as my pineapple was a bit on the not-so-sweet side. Made while gallivanting the globe in the Caribbean, with *The Groovy GastroGnomes on ZWT 5*.
Heat half-and-half and brown sugar in heavy medium saucepan over medium heat to simmering.
Whisk about 1 cup hot half-and-half into egg yolks, then whisk yolks into remaining half-and-half. Cook, whisking constantly, over low heat until slightly thickened, 7-10 minutes. Strain through sieve and let cool to room temperature. Stir in rum and refrigerate covered.
Cut tops and bottoms from pineapples and cut away peels and eyes. Quarter lengthwise. Remove cores and cut each quarter lengthwise in half. Spoon sauce over pineapple and garnish with mint sprigs.