Prep 30 mins
Cook 20 mins

I came up with this recipe cuz of an abundance of peaches on my tree. I just love the sweet peaches in the flaky puff pastry!
Directions
Preheat oven to 400º.
As you're slicing the peaches, save the juice.
Combine peach juice with sugar and cornstarch in saucepan. Cook until thick and bubbly.
Add peaches, butter, cinnamon and nutmeg.
Cool slightly.
Lightly roll out each pastry sheet on floured surface.
Cut each sheet into 4 squares.
Place some of peach filling on half of each square. Brush edges with beaten egg. Fold over into a triangle (or rectangle) and press to seal edges (or crimp with fork).
Place on baking sheets.
Bake at 400º for 10-15 minutes until lightly brown and puffy.
Cool on racks.
Sprinkle with powdered sugar. Or frost with a powdered sugar frosting.
Most Helpful
Thanks much for sharing this recipe, one I need to keep on file so I can actually make it with fresh peaches next time around! Meanwhile, I did it up with canned peaches & was pleased with the results! With home grown, though, or with nice ripe peaches in season, this would be an even greater hit! Thanks for sharing this! [Tagged made & reviewed as a bonus tag in Aus/NZ Recipe Swap #14, Mar 08]
Love how super quick and easy these are to make! I normally do't make too many pastry based desserts as I find them a bit of a faff, but I love when recipes call for puff pastry; life is too short to make your own! The filling is delicious too, I had around 1/4 cup leftover, after making all my turnovers (I was wary about overfilling them!) so I served the leftover filling with the turnovers; delicious!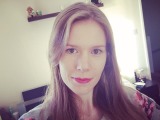 Works with frozen peaches too. Just strain, thicken and sweeten juice, and add peaches, ....