Fresh Fruit Salad With Lime Cream
Derf2440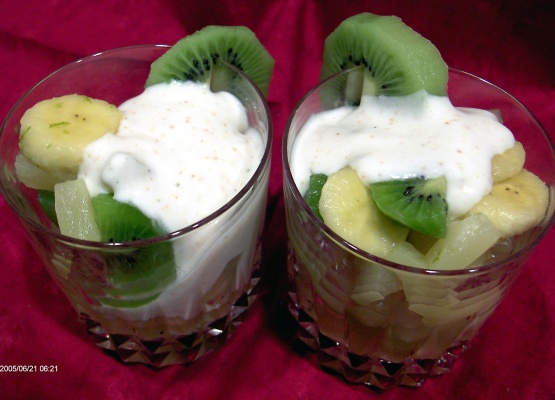 Very good as a dessert of for breakfast, with a slice of raisen bread toast or a muffin. Pleasantly tart. (cook time is chill time)from Cooking Light

This recipe was okay. I did not like the lime cream by itself. I almost threw it out. then I remembered that the other poster mixed the cream INTO the fruit, MUCH better. This recipe is not very kid friendly, at least for our house. If you like a waldorf salad or something similar, you may like a fruit salad with mayo. Oh, if you dont have mace, (I went out and bought the spice for this recipe) I think you may be able to replace it with nutmeg as it tastes a bit similar to me.
Combine banana and 1 tablespoon lime juice in a medium bowl, toss gently.
Add pineapple, 1 tablespoon sugar and 1/2 teaspoon lime rind, toss gently.
Cut kiwifruit slices in half, add to banana mixture, toss gently.
Cover and chill up to 8 hours.
Combine mayonnaise and sour cream, add the remaining 2 tablespoons lime juice, 1 tablespoon sugar, 1/2 teaspoon of lemon rind, and mace, stirring well.
To serve, spoon 1/2 cup fruit mixture into each of 8 individual serving bowls, top with 1 1/2 tablespoons sour cream mixture.