gailanng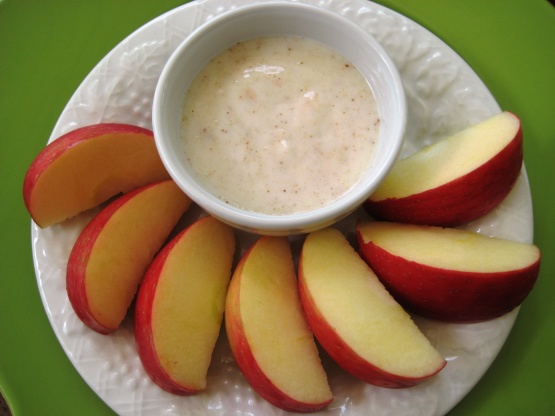 From the Better Homes & Gardens Easy Everyday Low Carb Cookbook that I sent to my swap partner FloridaNative. This is a refreshing fruit dip and I used it with fresh pineapple cubes, apples and peaches during a get-together. I did tweak it in that the original recipe called for only an 1/8th tsp of either cinnamon, nutmeg or ginger but I love the combination of cinnamon and nutmeg so I used about a 1/4 tsp of each.

I made 1/2 recipe of this dip this morning to have for breakfast...was planning on using it to dip some banana, strawberries and a kiwi in. Went to grab the fruit and found out DH didn't buy any because it didn't look good. So, I went to the pantry and grabbed some gluten free cinnamon oat & rice clusters and turned this tasty dip into a parfait instead! As a fruit dip or a parfait, this recipe is a keeper. Made and reviewed for the Feb-Mar 2010 Potluck/Special Event Tag Games
In a small bowl, stir together the yogurt, applesauce and spices.
If not serving immediately, make sure to keep in refrigerator. Serve with fresh sliced fruit, like pineapple, strawberries, apples, peaches, or nectarines.