Prep 15 mins
Cook 25 mins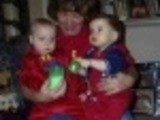 Easy to put together and fairly fast to bake. Dinner can be on the table in 35-45 minutes.
Directions
Cook meat, celery and onion in skillet, drain off the grease.
Stir in the soup, catsup, salt and pepper.
Turn into a greased (sprayed with Pam) 8x8x2 inch baking dish.
Arrange the potatoes over the top.
Bake at 425*F for 25 minutes.
Most Helpful
Quick and easy. Will make again when I need something that won't keep me in the kitchen all afternoon.
This was an easy tasty recipe which my kids loved! I did use tater tots with cheese instead of french fries. Thanks Trisha for a kid pleasing recipe.

This was a very good, kid friendly, family meal. I topped with potato gems and probably cooked slightly longer so they were nice and crunchy. This would be great with the addition of any vegetables (zucchini, peas etc) and I also think for a nice change BBQ sauce in place of the catsup would work out well. Thanks for posting a recipe I will make again.