French Farmhouse Garlic Chicken
Kats Mom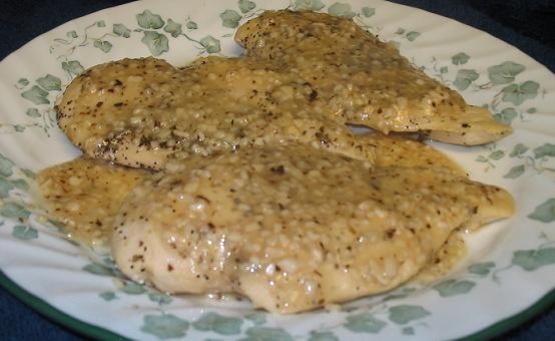 Vampires beware! Actually, don't be put off by the large quantity of garlic in this recipe. When the garlic cooks, the flavor mellows out and it isn't overpowering at all (although you and your significant other may want to be sure you both eat dinner together!) Good served with either mashed potatoes or rice.

I had some garlic heads I wanted to use and this was perfect. I did double the wine and broth because my family likes lots of sauce. I served it over rice. The only problem I had is that i should have doubled the whole recipe because there was not enough for seconds-which they were begging for!
Rinse chicken and pat dry with paper towels.
Season with salt and pepper.
Heat oil over medium-high heat and add chicken and garlic (yes the whole cloves).
Cook chicken until just brown on each side, turning once.
Slowly add the 1/2 cup wine or broth, the 1/2 cup broth, lemon juice, basil and oregano.
Cover and simmer for 6 to 8 minutes or until chicken is tender and no longer pink.
Transfer chicken and garlic to a warm serving platter; and keep warm.
In small bowl, stir together the flour and 2 tablespoons wine or broth.
Stir in a couple of tablespoons of hot pan juices.
Stir this mixture into remaining juices in pan.
Bring to a boil.
Cook and stir for 1 minute.
Spoon over chicken.