French Cabbage and Ham Gratin
Elmotoo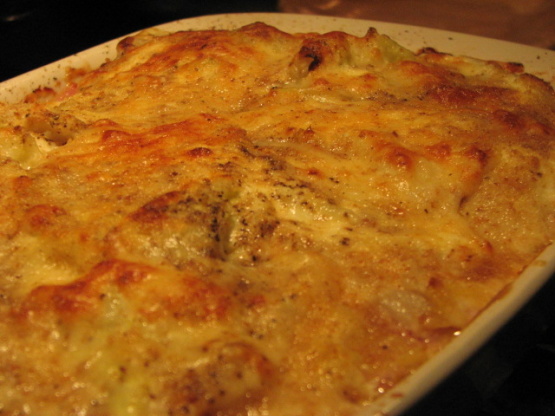 This dish is very typical of southern France. Adapted from a recipe by Stephanie Alexander. After we made duck stew, we used the rendered duck fat for this recipe and it turned out well. Dont forget to scatter the salt and pepper as you go along.

This wasn't overwhelmingly delicious or filling for weeknight family dinner to us. Bland is probably the best words to use. The amounts listed were not enough for a large casserole dish so if you make it plan on keeping the cabbage the same but doubling most everything else especially the ham, cheese and the creme fraiche. These flavors were almost missing from the taste completely.
Preheat oven to 200°C/400°F.
Bring a large saucepan of lightly salted water to a boil.
Separate cabbage leaves and blanch for 5 minutes in the boiling water.
Drain and squeeze hard in a clean cloth.
Rub duck fat on the bottom and sides of a gratin dish.
Layer the dish with 1/3 of the cabbage, 1/3 of the creme fraiche, 1/3 of the cheese and half the ham, adding pepper and a little salt as you go along (remember ham has salt already).
Repeat the layers once, then cover with a last layer of cabbage and finish with the rest of the cheese and creme fraiche.
Scatter with the breadcrumbs and drizzle with the remaining duck fat.
Place the gratin dish on top of a baking tray to catch overflow and bake for 25 minutes until crust is golden and the gratin is bubbling at the edges.
To serve, cut the layers with a sharp spoon.