French Bistro Steak on Garlic Croutes and Potato Frites
alligirl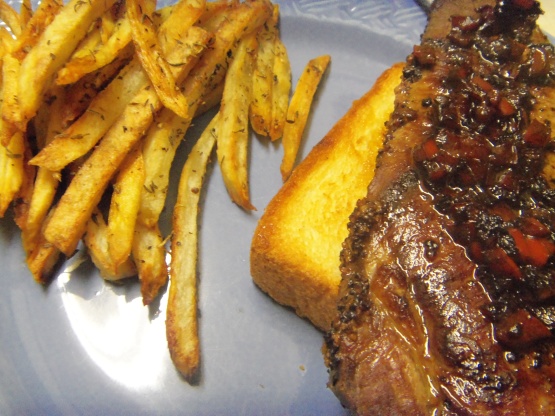 This recipe originally called for sweet potato frites, but we are not fans of sweet potatoes, so alas the change. Make sure to time the cooking of the steak to when the potato frites will be done.

Really did enjoy these for dinner tonight - I'm not a 'sauce' on my steak kinda girl, but I followed this recipe, except for splitting the steak. The fries were lovely and crispy with a great flavor. The steaks were great on the bread with the reduction drizzled over top. I will file this away for the next time DH deserves a special dinner! Thanks for sharing, Deantini!
4

slices vienna bread

1

garlic clove, halved

4

teaspoons olive oil

16

ounces rib eye grilling steak (or 2 x 8 oz striploin grilling steak)

2

tablespoons green peppercorns, cracked (or 2 tbsp cracked black peppercorns)
1⁄4 cup red wine
1⁄4 cup beef stock
1⁄4 cup sweet red pepper, finely diced

1

shallot, finely diced (or 1 green onion, finely diced)

2

teaspoons butter

Potato Frites

4

potatoes, peeled and cut into long strips like french fries, but thinner

1

tablespoon vegetable oil

1

teaspoon dried thyme
1⁄4 teaspoon salt
1⁄4 teaspoon pepper
Potato Frites:.
Preheat oven to 400 degrees.
In bowl, toss potatoes with oil, thyme, salt and pepper.
Arrange on foil-lined rimmed baking sheet.
Bake, turning once, for 40 minutes or until tender inside and crisp outside.
While potatoes cook, start the Bistro Steak.
Bistro Steak On Garlic Croutes:.
Rub bread all over with cut side of garlic; brush with 2 teaspoons (10 mL) of the oil. Toast on baking sheet for 10 minutes or until golden.
Meanwhile, trim off all but 1/8 inch (3 mm) fat from steak, if needed.
Roll edges in peppercorns to coat.
In skillet, heat remaining oil over medium-high heat; cook steaks for 4 to 6 minutes per side or until medium-rare inside and browned. Transfer to plate; cover and keep warm.
Add wine and stock to skillet; bring to boil, scraping up any brown bits. Boil for about 1 minute or until reduced by half. Remove from heat.
Stir in red pepper, shallot, butter and any juices accumulated on plate.
Cut steaks in half; place on croûtes.
Pour sauce over top.
Serve with Potato Frites.