Peter J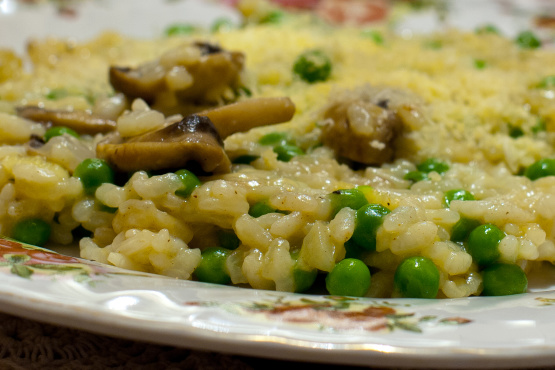 I got this delicious recipe from a sweet elderly italian lady. It's so simple to make and tastes great. Francesca always told me to use good quality cheese and wine, because you can taste the difference.

Beautiful! The flavours layered together wonderfully and the cooking method was perfect. The only thing I'd change next time and it's a very small thing is to use double the amount of mushrooms, they melded together so well with everything else I wouldn't have minded a few more.
1⁄2 teaspoon saffron thread

4

cups chicken stock, very hot

3

tablespoons butter, unsalted
1⁄4 cup fresh fennel, chopped
1⁄4 cup onion, sweet, chopped
1⁄8 cup cremini mushroom, finely sliced

1

cup arborio rice
1⁄2 cup white wine, dry

2

cups peas, petite, fresh (frozen & thawed)

1

tablespoon extra virgin olive oil

1

cup parmesan cheese, grated, good quality
1⁄4 teaspoon nutmeg, freshly ground
1⁄4 teaspoon salt, sea, fine
1⁄8 teaspoon pepper, black, fresh ground
Put the saffron threads into the hot chicken stock to steep(keep warm).
Melt butter in saucepan over medium heat, stir in fennel, onion and mushrooms and saute 4 minutes.
Add the rice to the vegetable mixture, stir frequently until rice is shiny and has begun to absorb the butter.
Lower the heat and add the wine, stirring constantly until the wine is absorbed.
Next pour in 1/4 cup of the hot stock, stir constantly until the stock is absorbed, do this 1/4 cup at at time until all the stock has been absorbed by the rice.
Stir in the peas and olive oil cook an additional 3 minutes.
Remove from heat and stir in 1/2 cup of parmesan cheese, salt, pepper and nutmeg.
Cover and let stand for 5 minutes.
Sprinkle the remaining parmesan cheese on top of the rice just before serving.