Fondant Potatoes With Garlic (Fondant De Pommes De Terre)
loof751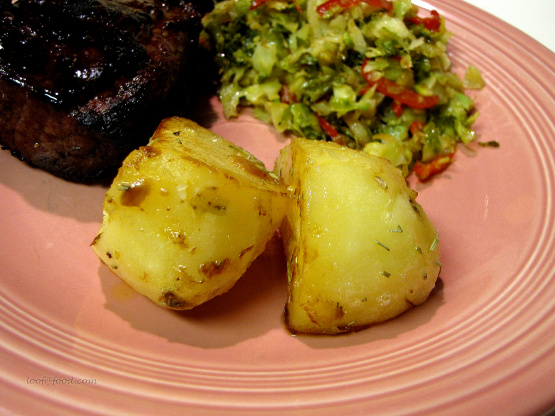 These potatoes are peeled and baked whole. They get a nice golden brown and are very soft inside. Potatoes should be medium size. If they are larger, cut them in half. (thanks, Loof, for the tip)
Heat oven to 350°F.
Put oil and butter in a baking dish. Put dish in oven until butter melts.
Add potatoes and garlic and turn to coat all sides of potatoes. Bake 15 to 20 minutes until golden brown.
Add the broth and rosemary and bake another 15 minutes, or until the stock is absorbed and potatoes are soft. Season with salt and pepper.
Serve. (discard garlic).