Foil Packet Country Potatoes on the Grill
lazyme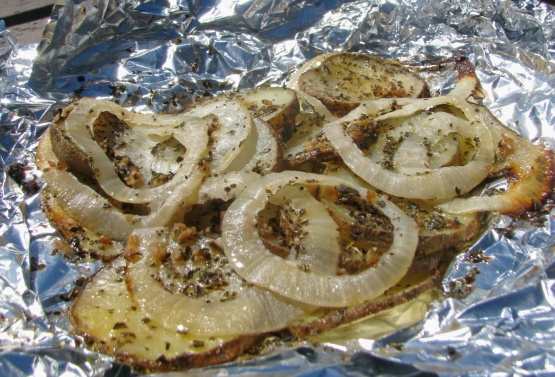 This is one of my favorite summer potato recipes. It's so easy to make. I like to cook mine a little longer, so those potato and onion slices at the bottom of the packet are browned and buttery crispy. I like to cook these potatoes while grilling meat, so everything is done all at once without too much effort. Whenever I make this, we fight over who gets to scrape the bottom of the packet for the browned bits of potatoes and onions.
Preheat grill to medium heat.
Cut two sheets of aluminum foil to 20 inches in length and arrange them cross-wise on a flat surface.
Place 2 tbs. butter in center of foil.
Arrange potatoes, onion and garlic atop butter in center of foil. Sprinkle with seasonings and place remaining 2 tbs. butter on top.
Bring ends of top layer of foil together and fold downward 3-4 times toward the potato mixture, leaving enough slack so that the mixture doesn't spill too much out the sides.
Repeat with bottom layer of foil until tightly sealed.
Place packet on top rack of grill and cook, covered, for 30-35 minutes. Do not turn.
Remove packet from grill with oven mitts, being careful not to tear the bottom of the packet.
Carefully open foil and serve directly from packet.