Flourless Dark Chocolate Cake
GaylaJ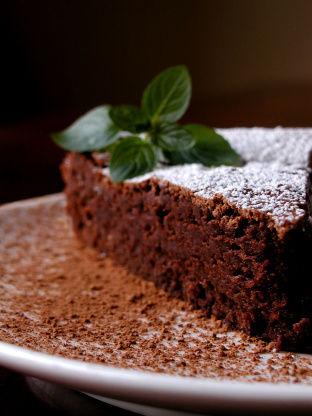 This cake is a classic - definitely my favourite chocolate cake recipe ever. It's beautifully rich thanks to the espresso coffee and shot of brandy, but light and fluffy by virtue of the egg whites. A perfect balance!
Preheat oven to 180C, and grease and line a <24cm cake tin.
Separate the eggs. Beat the whites until stiff peaks form. In another bowl, lightly beat the yolks.
Gently melt butter and chocolate in a double boiler.
Combine melted chocolate mix in a bowl with sugar, coffee, and brandy or rum.
Add almond meal and mix well.
Add egg yolks a little at a time.
Gently fold in egg whites (you might have to beat them a bit first to restore the stiff peaks).
Pour mixture into cake tin and bake for 45 minutes. The cake will puff up while it's in the oven and settle while it cools. After 10 minutes of cooling, dust the top with cocoa or icing sugar.