Parsley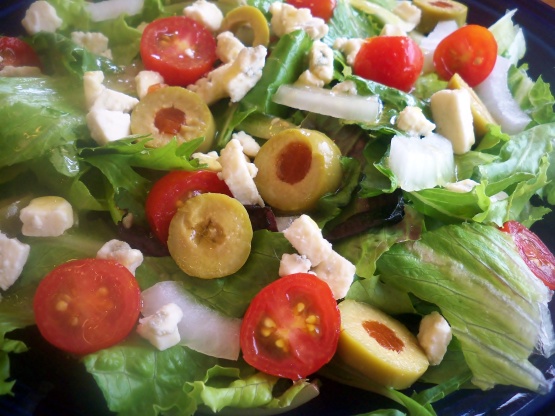 This was a popular side salad at a favorite dinner spot in Florida. We copied the idea when we got back to the great white north. Do not omit any of the ingredients...they really work well together. We serve this often at home when we are stuck on a "side" dish.

This is a keeper! We had this for our lunch and it was very good and very filling. The only thing I changed was feta cheese for blue cheese, because my husband hates blue cheese. Thanks so much for a great recipe! Carole in Orlando
place salad greens in lrg bowl.
toss with onions,olives,tomatos,vinegrette˜O and parmagian cheese.
(you want to add enough parmagian cheese to be able to see it) serve with crumbled blue cheese on side for guests to add as light or heavy as they like this is best if made immediately before serving.
enjoy!