Pumpkie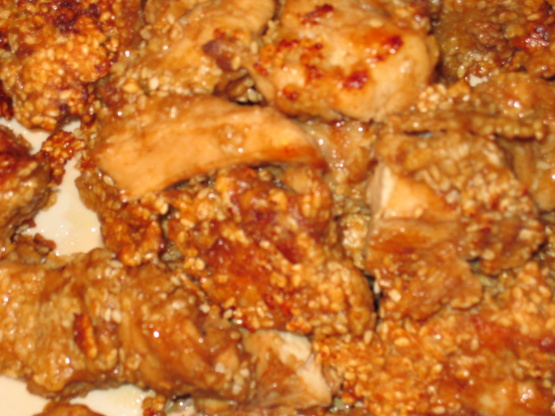 Just a quick Chinese themed way of fixing chicken breasts - the prep time includes the minimum time for marinating.

Very good! I have never had chinese five spice until I bought some to use in this recipe. It was really good! I marinated my chicken for about 4 hours or so. The chicken was so juicy, but the coating on the outside was the perfect crispness. I used some sesame seeds the I toasted instead of almonds.
Slice chicken.
Combine soy sauce, wine, sesame oil, ginger, garlic, and 1 tsp of the 5 spice powder, and marinate chicken for at least 1 hour.
Combine the remaining 5 spice powder with the flour and dredge the marinated chicken.
Dip the dredged chicken in the eggs, then roll in the nuts.
Heat the oil and cook chicken 3-4 minutes on each side.