Rotisserie Five Spice Chicken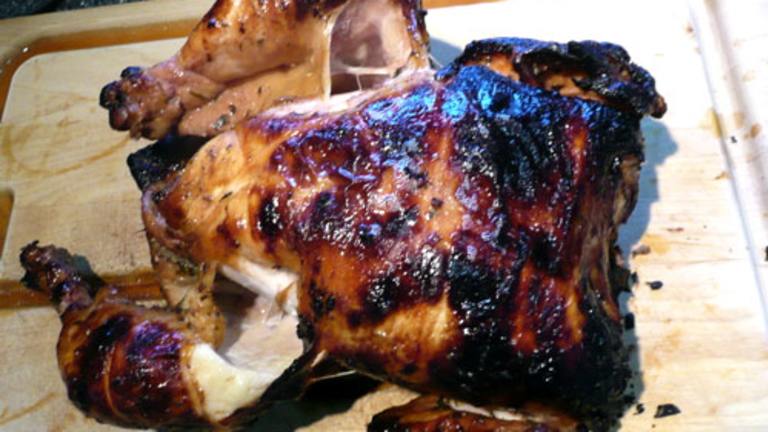 I got this recipe from www.recipe4living.com I haven't try it yet. I love cilantro and lime juice. I had a jar of five spice for years and I never use it because it has cloves and I don't like them; until I tried recipe#151453 and fell in love with it (not with the cloves, but the whole combo). Now I use five spice a lot. I hope is great in this recipe also. Cooking time does not include marinating time. PS: I do not have a rotisserie
Ready In:

1hr 45mins

Serves:

Units:
directions
To make the marinade: In a medium bowl whisk together the marinade ingredients.
Remove and discard the neck, giblets, wing tips, and any excess fat from the chicken. Rinse the chicken, inside and out, under cold water and pat dry with paper towels. Place the chicken in a large, resealable plastic bag and pour in the marinade. Press the air out of the bag and seal tightly. Turn the bag to distribute the marinade, place the bag in a bowl, and refrigerate for 6 to 8 hours, turning the bag occasionally. Remove the chicken from the bag and discard the marinade.
Truss the chicken with cotton string. Center the chicken lengthwise on the spit and adjust on the rotisserie. Let the chicken rotate over Indirect High heat until the juices run clear and the meat is no longer pink at the bone, 1 to 1-1/4 hours (check the chicken after 30 minutes; if the skin is browning too quickly, reduce the heat to Indirect Medium). When the chicken is fully cooked, turn off the rotisserie and, using barbecue mitts, remove the spit from the rotisserie and slide the hens from the spit onto a cutting board. Be careful not to splatter yourself with the hot juices. Allow the chicken to rest for a few minutes. Cut the chicken into serving pieces. Serve warm.
Submit a Recipe Correction
RECIPE MADE WITH LOVE BY
"I got this recipe from www.recipe4living.com I haven't try it yet. I love cilantro and lime juice. I had a jar of five spice for years and I never use it because it has cloves and I don't like them; until I tried recipe#151453 and fell in love with it (not with the cloves, but the whole combo). Now I use five spice a lot. I hope is great in this recipe also. Cooking time does not include marinating time. PS: I do not have a rotisserie"
This is one of the nicest marinades I have found. Great flavor. I was going to do this on my old Farberware rotis but it turned really warm here today, and I ended up doing it on the outdoor rotis. Worked great, just a little more smoke flavor than the other way. I am sure it would be just as good on a oven roasted chicken, or on chicken parts.

I got this recipe from www.recipe4living.com I haven't try it yet. I love cilantro and lime juice. I had a jar of five spice for years and I never use it because it has cloves and I don't like them; until I tried recipe#151453 and fell in love with it (not with the cloves, but the whole combo). Now I use five spice a lot. I hope is great in this recipe also. Cooking time does not include marinating time. PS: I do not have a rotisserie