-Sylvie-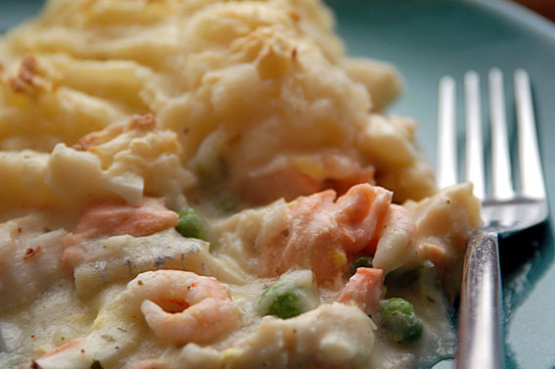 We like this with carrots as a vegetable side dish. You can substitute 1 cup of the milk with white wine or vermouth. A deep dish is preferred, otherwise it is difficult to spread the potatoes over.

This was a very good fish pie recipe. We eat a lot of fish pies in our house as it is a particular favorite of my daughter. The filling for this recipe is especially tasty. I followed the recipe poster's suggestion and used 1/2 milk, 1/2 white wine in the sauce, which I would do again as this added a nice flavor. I needed far less liquid, however, than called for - it made the sauce for the filling a bit too thin (although still very tasty). The potato topping came out a bit too thick for my liking- I was tempted to add some milk to soften them more, but didn't, as I thought perhaps the potatoes might be intentionally thick to better absorb some of the delicious filling. Next time, I will add some milk. My family also commented that they would love to have this fish pie again, but with some additional ingredients added to the potatoes (I usually add a little white Cheddar and garlic to mine)as well as double the amount of prawns.
Preheat oven to 400 degrees F.
Put the fish in a baking dish and season with salt and pepper.
Pour over 1 cup of the milk and dot with a few flecks of butter, bake in the oven for 15 minutes.
Strain but reserve the cooking juices, remove any skin from the fish and flake the flesh in large pieces.
Make the sauce, melt the rest of the butter in a saucepan, stir in the flour and cook it for 1 minute, start adding the cooking juices bit by bit, stirring all the time, after that add the rest of the milk, if still too thick just add a little more milk.
Season the sauce with salt and pepper.
Mix in to the sauce: fish, prawns, eggs, capers, parsley, peas and celery, add the lemon juice and check the seasoning.
Pour the fish mixture in a 1½ liter greased ovenproof dish.
Mash the potatoes with the butter, sour cream and nutmeg, check the seasoning, and then spread this on top of the fish.
Bake in the oven at 400F for 30 –40 minutes.