Fire Roasted Artichokes With Herb Aioli
Prep 15 mins
Cook 45 mins

This recipe came from Monterey, California, courtesy of Bobby Flay and Food Nation. I spent a few years in this area and love artichokes! Here's a good recipe!
Directions
Mix the garlic, scallion, olive oil, balsamic vinegar, basil or cilantro, salt, and pepper together in a large bowl. Place the steamed artichokes in the mixture and marinate for 15 to 20 minutes.
To make the aioli:.
Combine the bread crumbs, red wine vinegar, garlic, salt, and egg yolks in a food processor. With the motor running, slowly drizzle in olive oil to make an emulsion. Add pepper and hot sauce, to taste. Add fresh basil or cilantro and pulse to combine.
Preheat a grill.
Remove the artichokes from the marinade and place on char-broiler or barbecue fire with the leaves of the artichoke up. Cook for 4 to 6 minutes depending on fire temperature.
Remove from fire and garnish with herb aioli. Enjoy!
Most Helpful
didn't bother to make the aioli, this recipe is that good!! Doubled the ingredients, marinated the steamed artichokes for longer in the marinade,and didn't end up putting them on the bbq, put under the broiler instead. Very good flavor, very good texture, served with a garlic, lemon mayonaisse sauce. Xllnt!! I've found that the easiest way to steam these is to cut the artichokes into quarters ( if using jumbo artichokes) while they're still raw. Its not easy to do, you must use a very sharp knife, and then I put them cut side down in a round pyrex dish filled half ways with water and lemon juice, then cover tightly and cook in microwave oven for about 13 to 15 minutes. Let cool and then remove hairy part and purple leaves and then proceed with the recipe. I like to serve "Mom's Best Dipping Sauce" with this recipe. It is #322625.
I'm in love....with an artichoke! This takes your basic steamed artichokes to a whole new and wonderful level. I was able to steam my artichokes quickly, by using recipe#332641, then proceeded with this recipe. I love the flavors in the marinade, especially the garlic. I used cilantro this time (next time I will try basil, to compare). The fire roasting imparts a lovely roasted flavor. I didn't even bother making the aioli, this is so good just as is...no need to dip! Goodbye butter! YUM.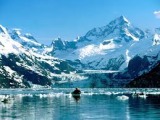 I didn't make the aioli, but the artichokes were fantastic! The balsamic and grilling pair beautifully with them.