Finnish Dried Pea Soup (Hernekeitto - Finland)
Coasty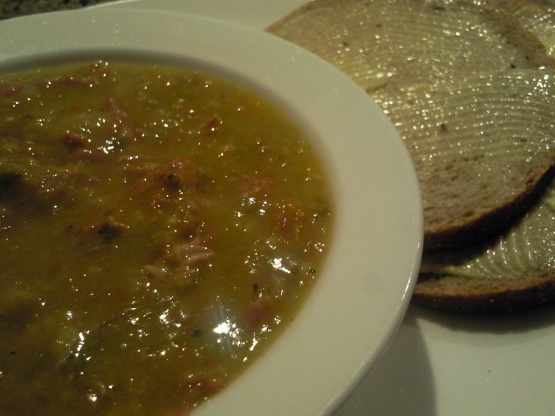 From the "Best of Finnish Cooking". The author put together her recipes so that her sons would always have the Finnish recipes/dishes at hand. I haven't made it yet. I like the short list of ingredients. Time does not include the overnight soaking.
Tasted exactly as pea soup should yum yum. My Finn added way more salt than me, I thought about 1/2 teaspoon was enough. I couldn't find a boned ham but mine seemed to work just fine. Very easy to make and nice and filling. We had two big serves and another 2 big serves into the freezer for another Thursday, of course.
Rinse and remove unwanted pieces from the peas. Cover with cold water and let soak overnight.
Afterwards, drain and rinse the peas. Peel the onion and stud it with the cloves. Put everything into the pot with the peas. (Use fresh water for the 8 cups, not the soaking water.).
Bring to a boil; cover, lower heat, and let simmer until they are very soft, about 2 hours, stirring often.
Remove meat from soup. Trim it from the bones, cutting into small pieces. Return it to the soup.
Salt to taste and serve. (I must add, however, that the listed amount of salt could be too much for some people, let alone adding more at this point. However, I've included the amounts listed by the author because she says that Finnish food is very salty. Use your own judgement.).