Rita1652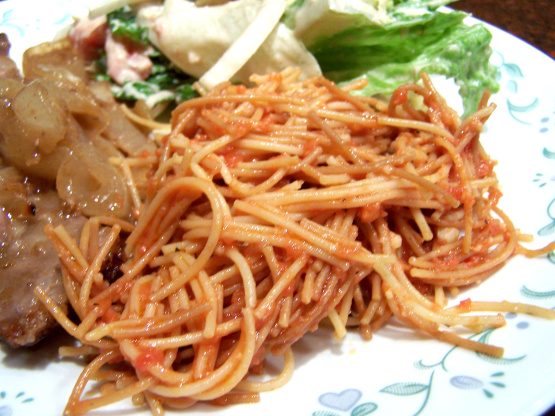 A favorite lunch dish at our house. I started with Debbwl's Toasted Pasta and made some adjustments to suit our tastes. We think it tastes very similar to spaghettios. Stewed tomatoes with sugar is necessary for the slightly sweet taste - if you substitute diced tomatoes, add a bit of sugar. I usually buy fideo in the ethnic food section (it's a popular pasta in Mexico). I have also substituted the tiny ABC pastas, but they take just a bit longer to cook.

Very good! I have made pasta before without boiling first and found them to starchy! But not this. I would think the frying of the pasta takes care of that. But I do suggest do it in batches. I had to remove the browned pasta from the bottom while the pasta on top didn`t brown. After browning and removing I added fresh sliced garlic and used Recipe #396007 in place of the salt. I need to watch my sodium intake! I pureed the tomatoes that was for my DS because he would remove every chuck and not eat them. Giving the pasta a chance to absorb all the goodness and he would never know. I did try the pasta before adding the cheese hoping not too. But it did need it! Thanks!!!
In a non-stick skillet, heat the oil over medium to medium-high heat. Add the fideo and fry until golden brown. Remove from pan and set aside.
If you don't like chunky tomatoes - pulse in food processor until they are of desired consistency.
In same pan bring tomatoes, water and salt to a boil.
Return pasta to pan with boiling tomatoes. Simmer, partially covered, for about 10 minutes. Stir occasionally to keep noodles from sticking. It's done when liquid is absorbed and pasta is tender.
Remove from heat and stir in grated parmesan.
Cover and let stand 5 minutes before serving.