Fettuccine With Vegetable Ribbons
Thorsten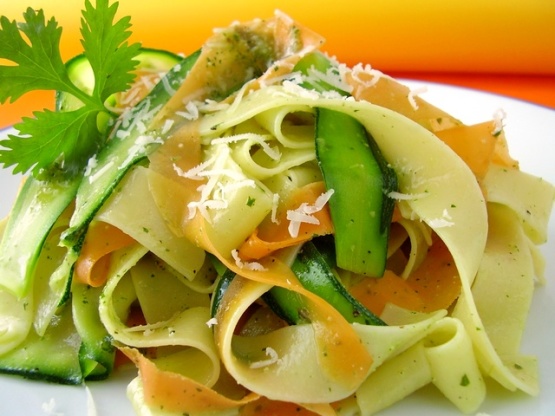 The sauce makes this dish!

Yes, the sauce makes this delicious dish. A kind of pesto, but the cilantro gives it the kick with its fresh and lemon flavors. I have blanched the very thin vegetable ribbons before I cooked the pasta and mixed them to the pasta after adding the sauce. They were 'al dente' and add a fresh moment to this great dish. Prepare the sauce in advance and you will have a fast and easy to make pasta recipe. Thanks for sharing.
Make the cilantro sauce: Put the cilantro, olive oil, pine nuts, garlic, and salt and pepper to taste into a food processor and work until smooth.
Fold in the grated cheese.
Cut the zucchini and carrots into wide ribbons (Use a vegetable peeler and shave off thin, wide ribbons).
Cook the fettucine in a large saucepan of boiling salted water for 8 minutes.
Add the zucchini and carrots to the pan of fettucine and cook for 1-2 minutes, until the pasta and vegetables are just tender.
Drain the fettucine and vegetables thoroughly and return to the saucepan.
Add the cilantro sauce and toss over high heat to warm through completely.
Taste for seasoning and serve.
Enjoy!
Note: The cilantro sauce can be made in advance and kept in an airtight container in the refrigerator for up to 2 weeks.