Fastnachts (German Doughnuts)
Whisper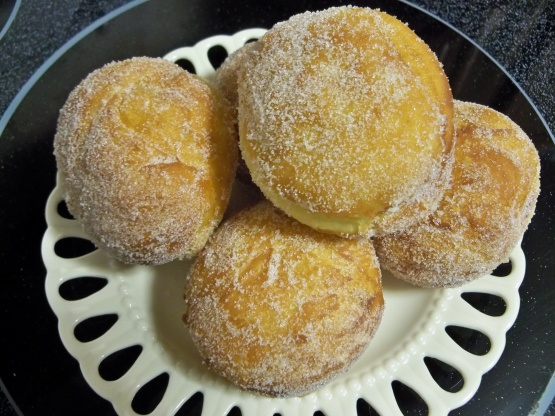 This is a traditional German recipe, usually made on Shrove Tuesday to use up the lard before Lent begins. Don't worry, you can fry them in vegetable oil instead of lard! Either way, they're delicious!

Kree, you did good. Very, Very good! This is almost identical to the recipe I'm used to. I didn't personally get to taste one as this was made while I had guests over who decended on these like vultures. They told me it was delicious and asked if I had any more. Oh well. I guess I will have to make another batch for just myself ;-) I've made these at my home in Europe, and those were excellent. This recipe is very similar, so I can safely say I know I would have given this a 5 star for standing ovation anyway.
Dissolve yeast in lukewarm milk.
Sift in flour and salt in bowl.
Make a hole in the center.
Pour dissolved yeast and all other ingredients into the hole and mix until not sticky.
Cover and let rise until doubled.
Punch down, then let rest for 10 minutes.
Roll out to about 1/4-inch and cut.
Let rise another 20-30 minutes.
Fry in deep fat until light brown.
While still hot, roll in sugar.