Fasolatha (Greek Bean Soup)
Thorsten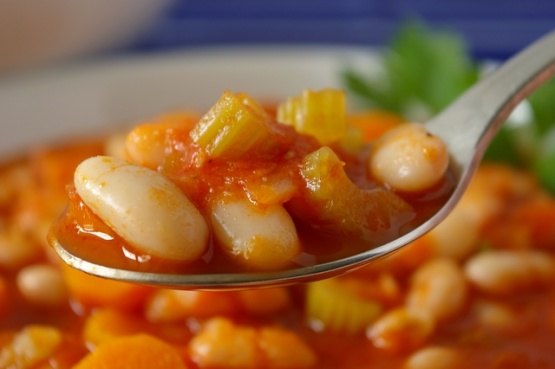 The Fasolatha (bean soup) Festival, originated in Florina, Macedonia, Greece, and is now a major cultural event in many Greek communities across the world. In the Northern hemisphere, the religious festival is traditionally observed near the start of winter - on St. Nicholas Day (during his lifetime he was known for giving sustenance to the poor). Food is a major part of the festival. Apart from Fasolatha (bean soup), Olives, Renga (smoked herring) freshly baked Florinian Bread (Pogatsa) Gyros, Souvlaki, Kebabs, and Loukoumathes (honey cinnamon - soaked donuts) are also served. Fasolatha is one of the heartiest dishes on the Greek vegetarian table, and a Lenten mainstay.

This is SOOOO good and easy to make. I prefer to use a pressure cooker and more veggies, including diced tomatoes rather than paste. I make the dish all the time! Of course I learned it from my mom and I also grew up eating it. We always had it with lemon juice squeezed on it in the plate. As with all recipes, I make my own personal modifications. One is to add the olive oil AFTER everything is cooked. This helps retain the delicious taste and good nutrition of the oil. Another modification comes from my Canadian (of Scottish descent) girlfriend. You add crispy fried bacon broken into pieces, also in the plate.
Soak the beans in water over night.
Strain the water and place the beans in a pot with new water.
Bring to a boil, remove from heat; strain water.
Replace the beans, add the rest of the ingredients and enough water to cover all the ingredients and simmer covered for an hour.