Family Favorite Kraut Burgers
Peace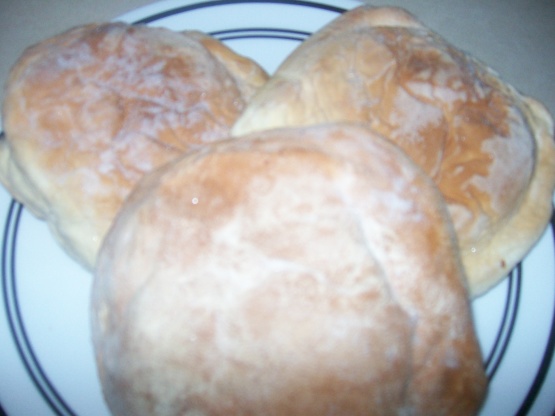 I like this recipe because my family loves it! It is their favorite meal that I cook on occasion. My Husband is German and Kraut burgers are his favorite German food. I have worked on this recipe for many years to make this recipe better and easier. Tip one is to make sure you have several cookie sheets and a clean table. Tip number two don't buy cheap meat. Buy the good quality meat. Tip number three turn on some music.

We loved this! My family is not a big cabbage lover (except me) but this totally changes that. I made an extra batch and froze them after baking for easy microwaveable "hot-pockets". I could not find the texas-sized rolls, so I just used 2 of the regular sized for each half, it made them quite large. I think next time I would just use one regular one for each half and just make twice as many. Thanks for a GREAT recipe!
Place all rolls out on cookie sheets. Spray syran wrap with cooking spray and cover snuggly (so dough does not dry out. Leave out to rise over night.
Preheat oven to 350 degrees.
In Large skillet brown ground beef and sausage together. When fully cooked drain off any excess oil in skillet. Season meat with salt,pepper and garlic powder. Add onions and half of the cabbage. Cover and let simmer.
While meat is cooking clean a large surface area and dust lightly with flour. Roll out each roll to about 6" to 7" round circle.
I do one cookie sheet at a time.
Remove meat mixture from skillet and put it in a large bowl.
Add the remaining cabbage to meat and stir well.(You can adjust the amount of cabbage you put in at this time if wanted or needed.). The heat from the meat will steam the remaining cabbage. Add Cheese to mixture. Stir well.
Place approximately 1/2 to 3/4 cup of mixture on top of one rolled out roll (dough) and cover with second roll. Pinch edges tightly all around the roll and tuck under roll. Place each roll on cookie sheet and bake in preheated oven for approximately 20 minutes or until golden brown.
My family eats these with honey mustard and spicy mustard.