Family Favorite Chewy Apricot Pecan Oatmeal Cookies
katew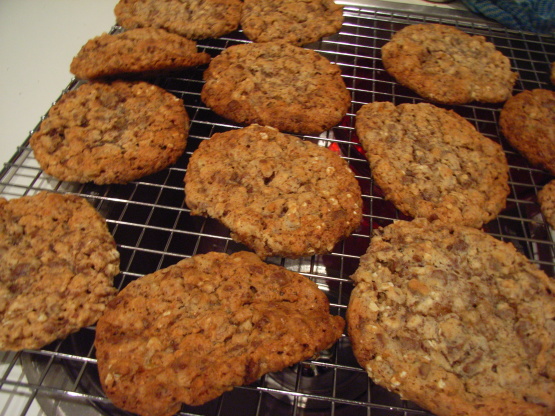 It was my turn to make the fellowship treat for church. Between Sunday School and the morning service we have a short coffee break where we enjoy coffee, juice and some sort of coffee cake etc... I wanted something some what healthy that everyone could easily grab. I had a big container of oatmeal and dried apricots in the pantry and used them as my jumping point. These even make a fantastic breakfast cookie!

Made these great tasting chews with a generous measure of both dried apricots & pecans! Easy to prepare & an absolutely wonderful cookie treat! Definitely a winning keeper of a recipe! Thanks for sharing it! [Tagged, made & reviewed for one of my groupmates in the AUs/NZ Recipe Swap #36]
Preheat oven to 350 degrees.
Line baking sheets with parchment paper.
Mix the flour, baking powder, slat, cinnamon, and oatmeal.
Beat the butter, shortening, water and sugars together until light and fluffy.
Add the eggs and beat well, scraping down the sides of bowl when needed. Beat in the honey and vanilla until fully blended.
Add the flour mixture in two additions, beating each until well combined.
Stir in the chopped apricots and pecans.
Drop by tablespoonfuls about 2 inches apart on cookie sheets.
Bake until the centers of the cookies are soft and no longer look wet; about 9-11 minutes.
Let cool on the pan for 5 minutes, then transfer to a cooling rack.