Sageca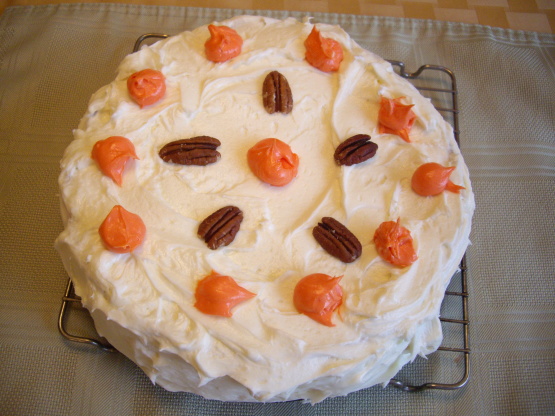 Carrot cake is comfort food at our house. This is also perfect divided between a 9in springform pan a regular 8 in round cake pan. Try grated zucchini as a substitute for carrots.
Cake.
Preheat oven to 350*. Grease and flour 9"x13" inch pan.
In large bowl beat eggs, oil, granulated sugar and vanilla.
In medium bowl, stir flour baking soda, baking powder, salt and cinnamon. Incorporate dry ingredients to creamy mixture.
Add carrots, mix and fold in pecans.
Pour batter in prepared pan.
Bake 45 minutes until tester inserted in centre of cake comes out clean. Let cool. Frost with cream cheese frosting.
Frosting.
In medium size bowl, mix butter and cream cheese till smooth.
Add almond extract. Gradually add icing sugar and beat till mixture is homogeneous.
Spread over cooled cake; decorate with pecan halves.
Tip; Use your food processor to grate the carrots.