Fabulous, Nearly Fat-Free Tartar Sauce
GaylaJ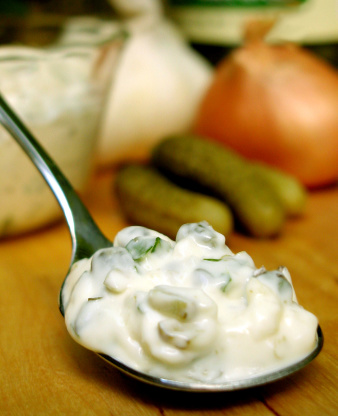 This sauce, by way of Jane Brody, is so rich you won't believe how little fat it has. Don't use fatfree mayo--it really alters the taste and texture. And don't be tempted to substitute gherkins--the cornichons give the sauce just the right bite. You can chop everything in a mini-processor--almost all time required is the hour the sauce has to sit.

My family likes the old 1950's standby - canned red salmon patties. I usually serve them with lemon wedges but decided to try a lower fat tartar sauce. This was excellent tartar sauce, every bit as good as the full fat versions. I didn't have any shallots in the vegetable bin but finely minced green onion made a good substitution. Thank you!
Combine all the ingredients in a small bowl and mix well.
Cover the bowl and let the sauce stand for an hour.