Extra Special Steamed Green Beans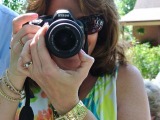 I learned this seasoning trick from a restaurant chef. It really improves the flavor but keeps the green beans healthier than adding a lot of butter to them. I have never liked green beans but I love them prepared this way. My kids do too!
Directions
Wash and snap the green beans. Place in a steamer basket and steam for about 18 minutes or until desired tenderness.
Place beans in serving bowl and drizzle with olive oil, stirring to coat. Sprinkle half the brown sugar on, toss to coat. Sprinkle on remaining brown sugar and pepper, tossing again.