Escargots With Feta in Phyllo Pastry
Zurie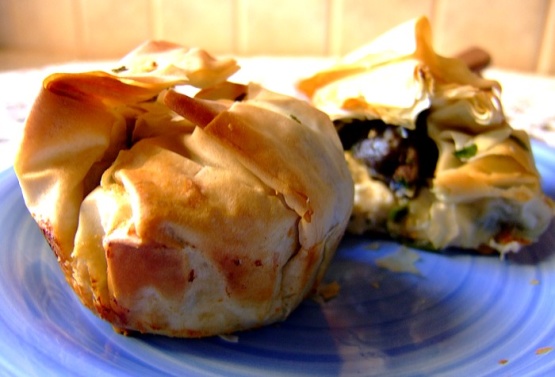 Your guests won't even know what they're eating, and did you know that snails are a very healthy meat?? If you are really, really squeamish, use canned smoked oysters or mussels. But this is a nice quick starter, or an extra to serve with meagre leftovers (which is what I used it for!) Escargots or snails come in cans, usually in two sizes. You need to look at the label to see approx. how many snails are in the can. The seasonings are fairly accurate, but really, this can be used to taste. Instead of black pepper, hot sauce can be used. Our phyllo comes in large sheets and I did not go as far as measuring it. This is an ideal starter to a dinner, served with arugula as a garnish. I have recently made this with 3-layer rounds of phyllo, pressed into muffin tins, and I put rounds of phyllo on top. I used it as a main dish with a salad and thingies, and instead of feta I used low-fat camembert plus walnuts in the filling. Yum!!
7

ounces escargot, canned (200 g tin, containing not less than 30 snails, but can size is approximate)

4

sheets phyllo pastry, large

6

ounces feta cheese (pat dry if in brine, or use a round of Camembert cheese)

3

teaspoons garlic, finely chopped (use strong garlic)

3

teaspoons black pepper, coarse

3

tablespoons butter
3⁄4 cup parsley, finely chopped (200 ml)
1⁄2 cup walnuts, broken up (optional)
Set oven at 350 deg F/180 deg Celsius, or 325 F/160 C if you have a convenction oven.
Grease 6 holes of a muffin tin.It's easiest to use every alternate muffin hole because you have to press in the phyllo pastry.
Open and drain the the escargots. Open the phyllo pastry, and cover with a well-wrung-out clean, damp kitchen cloth to prevent it drying out.
If your olive oil has a stopper which makes it come out in a thin stream, just drizzle across the top phyllo sheet, then brush that evenly all over with a pastry brush. (Or put olive oil in a bowl and brush over).
Put the phyllo sheet on a wooden board or on your clean counter. Brush 3 more phyllo sheets with olive oil, and put them, one after the other, carefully on top of each other.
The phyllo I used could then easily be divided into 6 parts and carefully cut through. Put the 4-layer phyllo pastry rectangles in 6 muffin holes, patting them in with your fingers.
Feta, where I am, usually comes in 2-ounce rounds in brine. Pat them dry with kitchen paper, and break up the feta in large bits. Put 1 ounce in each "nest" of phyllo. (Or see directions for camembert below).
Put 5 escargots on top of the feta chunks. Add the walnuts, if using.
Add about 1 heaped teaspoon finely chopped parsley to each filling.
Melt the butter gently, adding the garlic and pepper, stir to mix.
Add about 1 - 1 1/2 teaspoon of this butter mixture to each filling.
Carefully fold the phyllo pastry over the filling. The easiest way is to tuck in the short bits first, then fold the longest bit over the rest, and fasten with a toothpick.
Brush every little bundle with more olive oil, or melted butter.
Bake for 25 minutes in the preheated oven, until the pastry is golden.
They should come out easily, but be careful because the phyllo is brittle when baked. Garnish to your taste.
* Added later: If you have a small round bowl, you could cut out rounds and fit that into the muffin pan hollows by pressing them in gently. But cut out enough phyllo to cover the filling.
* I have used Camembert cheese plus walnuts, instead of the feta, and found that even more delicious.