Debber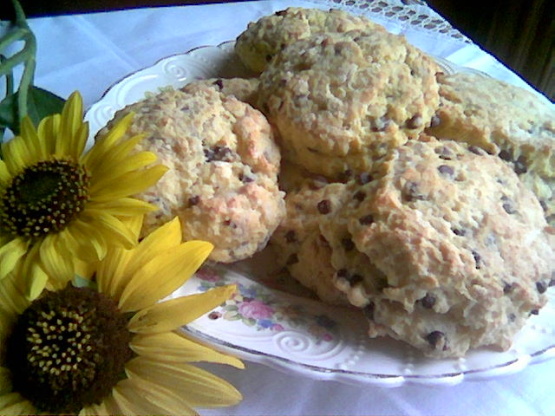 I don't remember where I got this recipe, but I love these. I was on a real tea and scones kick for awhile. What a lovely way to spend the afternoon! I can make some huge boo boos baking but these guys have never failed me.

I made these and was very pleased with their results. I love scones, but they can be so heavy, and these were just right. I ended up adding about 5 tsp orange juice to hold these together, but they still tasted great and not overly orange tasting. I cut mine into 12 triangles rather than circles.
Preheat oven to 400 degrees.
Spray a baking sheet with nonstick cooking spray.
In a large bowl, whisk together the flour, sugar, baking powder and salt.
With a pastry blender or a large fork, cut in the butter until the mixture resembles coarse crumbs.
Stir in the chocolate chips (or whatever you choose).
Mix in the orange juice to form a dough. Turn out the dough on a floured surface. Pat or roll into a 9" circle about 1/2" thick.
With a 2 1/2" fluted biscuit cutter, cut out 12 scones, pushing the scraps together for the last few.
Transfer the scones to the baking sheet. Bake until golden brown, about 12 minutes. Cool on racks.
Note: I have used white chocolate chips and dried cranberries and I prefer either or both to milk chocolate in these.