Enchiladas Coloradas (Red Enchiladas)
SimplyME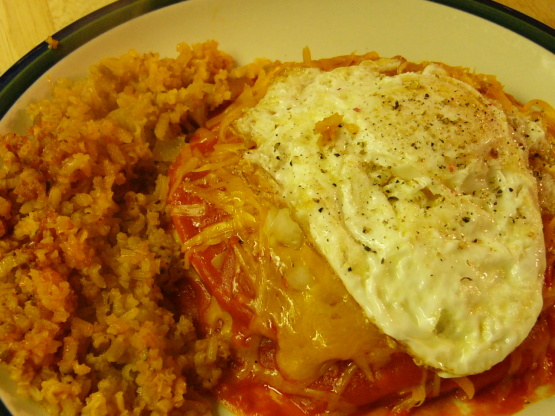 I picked up this recipe while living in The Land of Enchantment New Mexico. Makes a great breakfast.

I grew up with this recipe, except we dipped the tortilla in the enchilada sauce then put onions and cheese between the stacks. Of course, you have to have the fried egg and pour the enchilada sauce over everything to make it complete. Thanks!
2

tablespoons cooking oil
1⁄2 lb grated longhorn cheese

1

large white onions or 1 large yellow onion

1

tablespoon butter

4

eggs
shredded lettuce

RED CHILE SAUCE (use 2 cups)

24 -30

dried red chile pods

4 -5

cups water

1

teaspoon salt
Prepare RED CHILE SAUCE:.
Wash chile and remove stems and seeds.
Combine chile and water in a saucepan and bring to a boil.
Lower heat and cook for 15 minutes.
Let cool and blend in a blender a small amount at a time.
Strain through a sieve and add salt.
Store 2 cups in refrigerator for immediate use and freeze remainder for later use.
Prepare ENCHILADAS:.
Heat chile sauce over low heat.
Heat oil in frying pan.
Using tongs, dip each tortilla in the hot oil just long enough to soften it.
DO NOT FRY!
Place 2 tortillas, one at a time, on an oven proof plate.
Spoon on one or two tablespoons of the red chile sauce.
Sprinkle with cheese and onion.
Repeat the process with 2 more tortillas.
Put plate in a warm oven to melt cheese.
Repeat the procedure until all four plates are in the oven.
Melt butter in a frying pan.
Fry the eggs the way you like them (Over easy works best with for this dish).
Place one egg on top of each enchilada plate.
Decorate edges of plate with shredded lettuce and serve.