Pagan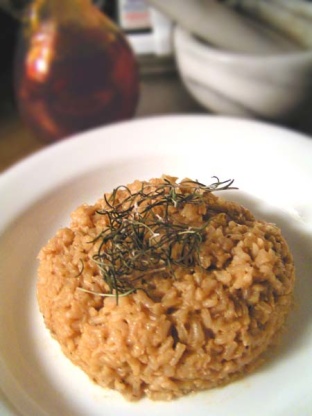 This is the perfect side dish for roast chicken, shrimp scampi, or a nice roast (it works so well with pork AND beef!). If used with beef, substitute the chicken broth/bulion cubes for beef flavored ones, and pork bulion for pork. Also, if you don't have the 16-oz can of chicken broth on hand, you can substitute or 2 cups hot water with 6 (flavored to match the meat you're serving) bulion cubes melted within.
Heat the oil over medium high heat in a medium-sized sauce pan that has a lid.
Add the rosemary, garlic, and red pepper.
Then cook the green onions and parsley until soft- 2-3 minutes.
Add rice, and salt, and cook, stirring constantly for 30 seconds.
Pour in the chicken broth and let rice cook on low heat until liquid is absorbed- 15-17 minutes.
Add one cup of HOT water, add the gumbo filé [or sassafras leaves] and continue to cook until rice is done.
Remove from heat and let sit for 5 minutes.
Stir in vinegar and serve hot.