Elswet's Chicken / Shrimp Scampi
Stacky5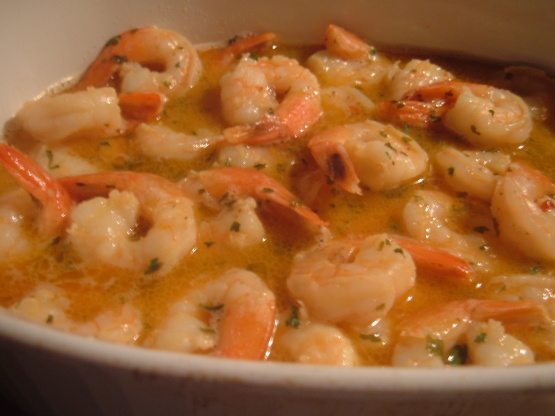 This recipe is really two recipes in one. It's also one of the best around for shrimp scampi that works just as well with chicken! This is a favorite in our house. Maybe it will become a favorite in your house, too.

OUTSTANDING! I must say, that I've been eyeing Elswet's recipes for some time now, and I'm so glad that I picked this one to try first! Absolutely delicious! The seasonings were perfect, and the instructions were right on! I'm sorry my photo of the finished product with the parmesan cheese on top turned out blurry -- because it was awesome exactly as written! I got 5 star ratings from all of my kids, and I couldn't have been more pleased with the taste myself! (I'll tell you a secret -- I've tried every "copycat recipe" for Red Lobster's shrimp scampi that I could find, and none have ever come as close to that perfect flavor as this one!) Thank you so much for sharing! This is a true keeper in my family! :) UPDATE! I cooked this one for my sister and all of my family on Christmas Eve this year....Not only did it turn out FABULOUS AGAIN! But it also inspired my older sister (who rarely EVER cooks) to want to try and cook more recipes from Zaar! KUDOS, Elswet and KychynWych! You have inspired my older sister to WANT to cook --- and make this wonderful recipe again for the man in her life! Thanks again...:) Stacy :)
Heat wine, olive oil, butter, margarine, and garlic in a large skillet on medium heat until it just starts to boil. Then add all the other spices, lemon juice, and parsley flakes; stir in and immediately add shrimp. Cook for about 4 or 5 minutes or until shrimp turns pink. Don't overcook! If using this recipe with chicken, cook approximatey 8-12 minutes, until the chicken bits are cooked throughout.
Spoon shrimp/chicken into toasting/baking dish with some of the cooking sauce and top liberally with parmesan cheese.
Preheat at "toast" or broil temperature for 5 minutes and Broil/toast for 2 minutes ONLY!.
Serve this as is, with home made Italian bread, or over a bed of tri-colored pasta, Elswet's Crab Dressing [which see], or Elswet's Jasmine Rice [also which see].